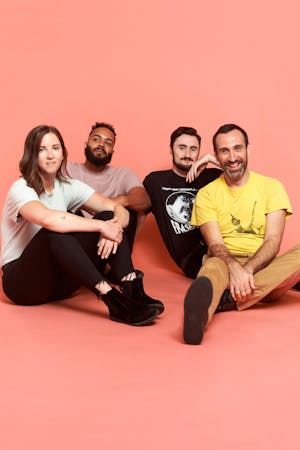 Church Girls
Trash Boy, Grocer
Church Girls with Trash Boy and Grocer at Johnny Brenda's in Philadelphia
8PM - Doors
9PM - Grocer
10PM - Trash Boy
11PM - Church Girls
CHURCH GIRLS
Church Girls—Philly's emerging indie post-punk outfit—delivers urgent catharsis on their forthcoming LP The Haunt, providing "a glimmer of hope amidst nihilism," says bandleader Mariel Beaumont. The record tackles themes of addiction and despondency in a poetic will to move forward towards healing and developing healthier habits.
The group has been busy since their last EP Cycles. They've been featured at Paste Magazine & Daytrotter, Bandcamp (New & Notable), PopMatters & more, and have toured extensively across the US, UK, Canada, and Europe.
The post-punk aggression of The Haunt combined with Beaumont's undying ploy to "pour gasoline and burn everything in our wake (in order to rise from the ashes)" foster controlled anger in the name of sapping the noxious and unwelcome return of addiction. The title track's bruising rhythms and arresting guitar melodies catapult Beaumont's vocals to the edge of the album's wry, indelible refrain: "I'm so sick of shoving dirt in a bottomless pit." Replete with gang vocals, the band relishes their ability to let the dirt shower over musty skeletons with dizzying guitars, subtle organ stabs and sticky bass figures. Consisting of Mariel Beaumont, Joseph Wright (guitar), Vince Vullo (bass), and Julien Varnier (drums), Church Girls conflate and implement fervor, breezing past the listener in all of one minute and 39 religious seconds. Church Girls make it wholly transparent, that they're able to defeat mundanity and combat addiction by using their musical agility as a weapon, to snuff out meaninglessness, no quarter.
The Haunt is out February 7 on Chatterbot Records.
TRASH BOY
the garbage-fire of the earth smoulders around you
you look down to discover you are standing on a political campaign advertisement from the old, cartoon dream-world. it occurs to you that the last time you will have ever used money was to pay $700 for car insurance. you laugh. you find an ancient case of four loko. might as well get quatro-crazy, you think to yourself, as the smell of burnt plastic stings your sinuses.
you decide to climb to the top of the dirtiest landfill you can find, and throw a dance party on the disposable remnants of the capitalist hellscape. you listen to trash boy on your headphones, and as you thrust your body into an uncontrollable frenzy, your mind races back to every arbitrary oppressive societal expectation that was ever forced on you in your youth. so much study. so many rules. yet all our educations, governments, and billionaires did not save us. finally, outside of technology and the cobwebbed halls of academia, you are free.
GROCER
Philly-based Grocer are a quartet with off-kilter, meticulous sensibilities evocative of 90s indie rock. Anchored by a stark vocal contrast courtesy of founding members Danielle Lovier & Nicholas Rahn, the two chronicle topics such as social decline and mental health, through their refreshingly acerbic lyrics. The vocal performances work in tandem with a confident, syncopation-prone rhythm section to offer up a unique blend of melodic pop immediacy and insular arranging.
The band formed in Brooklyn in 2012 under the name all boy/all girl to further realize Rahn's homemade lo-fi orchestral demos. Since then the band has been covered in publications such as Consequence of Sound, AV Club & WNYC and garnered a body of work including 2 full-lengths & 3 EPs now based in Philly with a new name new lineup and new LP being readied for release next year. The group has toured extensively in the US as well as in Canada and Europe, and is prepping for 2020 U.S. and Japanese touring in support of their next release
We're Trash Boy and we're here to take out every last garbage.

music: trashboyphilly.bandcamp.com
gram: instagram.com/trashboyphilly
tweet: twitter.com/trashboyphilly
tube: youtube.com/channel/UCW3T7oTTuMHwM_lD4xu7kEA
wix: trashboyphilly.com
tour: trashboyphilly.wixsite.com/mysite/tour

Venue Information:
Johnny Brenda's
1201 N. Frankford Ave
Philadelphia, PA, 19125