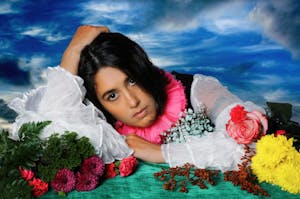 Half Waif
Ian Chang
Half Waif at Johnny Brenda's in Philadelphia
7PM - Doors
8PM - Ian Chang
9PM - Half Waif
HALF WAIF
Nandi Rose is on her own again, and three songs into her forthcoming album The Caretaker, the singer, songwriter and producer declares her fearlessness: "Baby don't worry about me, I don't worry about you." The words fall away from her breathlessly, unfolding with grace and force: "I've got places in my mind that I'll never find if you're holding my hand like you always do." Here, on "Ordinary Talk," Rose meditates on the heaviness of ordinary moments, the constellation of tears and chores and self-doubt and small talk that comprise being a person, accompanied by her most cinematic, pulsing arrangements to date.
It's an apt introduction to The Caretaker, a vessel for Rose's stories and observations that negotiates the space between working alone and with others, between isolation and connection. The result is her boldest work yet. For Half Waif, The Caretaker is a statement of intent in high resolution, a deliberate move from the obscured, muted mystery of her previous work. And there Rose is on the album's cover—her sharp image before a brilliant blue storm, staring you right in the eye.
An eleven-song journey through mind, memory and home, The Caretaker finds Rose astutely observing inward and outwardly, picking apart what it means to take care—of herself, partners, friends, family—and the shared pain that comes with that. The utterly crushing "In August" circles on the harsh fade of a crumbling friendship and the particular type of pain that comes with it. "I have lost your friendship / what does that say about me?" wonders Rose over a spare chord progression. Amid slowly swelling layers of synths and drum machines, her elastic and expressive voice shifts and takes off towards soaring and searching falsetto, as she grasps for meaning in turmoil. The more bittersweet side B is made of candid, slow-burning piano ballads that chronicle the passing of time.
Rose's voice sometimes sounds like a choir of one, like on "Blinking Light," where she self-harmonizes in a billowing cloud of her own voice. "Blinking light in the black hills / if this doesn't change me, nothing will," she wonders. "But give me 'til the end of June. / I'll be better with the weather." Time slips by, mistakes are internalized, messages go unread. Relationships dissolve. She bids goodbye to her 29th year. The Caretaker follows Lavender, Rose's debut, named for the lavender that once grew in her grandmother's garden.
And on her most recent collection, Rose's family history and intergenerational stories continue to seep their way into the songs. "There's a family legacy of losing and seeking homes, a theme that has followed me," she reflects, pointing to her mother's journey as an Indian refugee from Uganda and her grandmother's displacement from Lahore after the partition of India. "Growing up, being half-Indian was a point of pride for me. It made me feel different in a good way," adds Rose, who was raised surrounded by the Berkshire mountains in Williamstown, Massachusetts. "Generation" in part is an ode to her family and lineage; its lyrics are partially inspired by a poem that Rose's father wrote for her, which hangs on the wall in her studio where the record was written. Also on that wall: a photograph of Joni Mitchell, looking vulnerable and strong, and another of Rose's smiling grandmother that she looked to for energy while recording vocals.
While Lavender dealt with wider views on life and death, of endings and apocalypses, terror and tragedy, The Caretaker focuses the telescope inward, grappling with her desire for independence and the knotty reality that we need each other. "The Caretaker is much more about smaller minutiae of relationships and how so much humanity is packed into some of our most mundane moments," she says, deliberately placing each word. "The most ordinary things bring us together. And that in itself is extraordinary." While her previous full-length was arranged and produced with a band, The Caretaker was an endeavor of solitude. Rose wrote and arranged its entirety before bringing co-producer David Tolomei into the process to sharpen the sounds, tracking upright bass, violin, flute, piano, and bass clarinet at The Clubhouse in Rhinebeck NY, and lush analog synths at The Synth Sanctuary in New York City. The result is that Rose, as Half Waif, has never sounded more like herself. By the end of writing the record, though, the perspective she was writing from didn't quite feel like her own anymore, but more like someone she used to be, another person altogether: "I kind of created a character. She's someone who has been entrusted with taking care of this estate, taking care of the land, and she's not doing a very good job. The weeds are growing everywhere, and she's not taking care of herself." For Rose, the character of The Caretaker serves as a kind of warning of who she could become if she's not more vigilant. The story came together for her while sitting on the back porch of her countryside home, an old house that's reminiscent of her recently destroyed childhood home. She stared at its big, overgrown yard and listened to its summertime sounds: the bugs buzzing, the train rolling by. She captured field recordings for the album, adding them to the dark, swirling sounds. This is the world of The Caretaker—a dense, humid summer night. It's when Rose says she's "her best self." Rose begins The Caretaker disillusioned and longing for clarity, but by the album's end she has found something better: "It's hard to believe, but I'm finding my way," she sings matter-of-factly on album closer "Window Place." It's a resilient type of healing that sounds mature and assured in its wandering, like a moment of peace
IAN CHANG
属 Belonging, Ian Chang's first full-length album, is like a cyborg - part purring mechanism, part animate bio-mass rising from primordial ooze. In nine concise, largely instrumental pop songs, Chang conjures a personal cosmos: the listener feels as if we might reach out and touch Belonging's jagged and tender aural sculptures. At every level, his music sings with earnest and deceptive simplicity. The album's melodies are intimate, its rhythms rewarding, and yet, just beneath the surface glimmers innovation, as if the neurons firing in each melodic idea have become audible. From the tradition of Bjork, Burial, and Flying Lotus, Chang breathes a new kind of human vulnerability into electronica.
Chang's magic starts with his method: from an improvised foundation of sampled percussion, he follows the innate logic of a musical conversation, allowing his compositional forms to reveal themselves. The album's three vocal features - KAZU (Blonde Redhead), Kiah Victoria and Hanna Benn - weren't anticipated at the project's outset; they arose like friendships, unpredictably complex and increasingly rare, a consequence of Chang's ubiquitous receptivity. Whereas on his EP Spiritual Leader (2017) Chang limited himself to capturing unedited performances without overdubs, on this release the percussionist expands his palate, burrowing deeper into a layered, symphonic subconscious. Consequently, Chang's formidable growth as a producer is on display. Reflecting the album's bottom-up, performance-as-composition construction, his music conveys an intuitive sense of wholeness, carrying its experimental ethos without pretense. The resulting album unfolds like a confessional exploration, complicating the lines between rhythm and melody, modernity and antiquity, exuberance and meditation.
When Chang describes his creative process, the phrase "third culture" keeps coming up. Born in the colony of Hong Kong in 1988, Chang has lived a nomadic life. Stationed out of New York for 10 years, he built an impressive roster of progressive pop collaborators such as Moses Sumney, Kazu Makino, Joan As Policewoman, Body Language, Matthew Dear, and Rubblebucket, among others, all while performing internationally and recording as a member of Son Lux and Landlady. Now relocated to Dallas, Texas, Chang's discovered an inquisitive confidence that can only come from newfound isolation. Between tours, he dedicated himself to developing his international musical language, facilitated by a home studio and a burgeoning relationship.
For his first time in the aesthetic driver's seat, Chang hopes that Belonging may connect with those who have found a home in their not-at-homeness. The album represents a tumultuous period of enormous activity and advance, rooted in an eye-of-the-hurricane peacefulness. At times it seems as if Chang's playful curiosity threatens to overwhelm everything in its path, but the center somehow holds, and this is precisely the point: order arises naturally from his musical chaos. On the second track "Comfort Me," singer Kiah Victoria tosses off a thesis statement: "I don't know how long I'll stay here / but I know I'm right here, right here." On Belonging, the sense that nothing is planned yet all falls into place allows us to reconsider what we really need in order to belong. In his willingness to start over again and again, to let the music guide him (instead of the other way around), Chang reveals a home without boundary. Belonging introduces a musical contradiction: complete yet ever-evolving, neighborly yet global, precise yet instinctive, familiar yet innovative. Ian Chang's debut both satisfies and challenges modern expectations of catchy electronica. May we find ourselves at home in the paradox.
Written by Ross Edwards
Based in Brooklyn, New York.

Venue Information:
Johnny Brenda's
1201 N. Frankford Ave
Philadelphia, PA, 19125