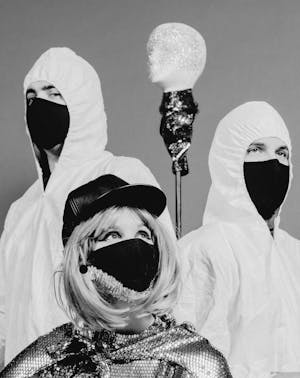 Jackie Lynn
Wume
$14.00 - $16.00
Postponed
Jackie Lynn with Wume at Johnny Brenda's in Philadelphia
7PM - Doors
8PM - Wume
9PM - Jackie Lynn
JACKIE LYNN
Jackie Lynn has been around for only a few years now, and most of them we haven't even seen her. Didn't take too long to get a name around town, then she disappeared.
She first broke the waves with a self-titled record in 2016. The image was alluring. There were masks, and a wild backstory. Something you could project up on a screen. The music was a gritty, quicksilver sound; nocturnal, high. There was press. Rumors of a cult following in Europe. She made appearances around town for about a year, then – nothing. Unless you spun the record, then it all came alive again. We do it all the time.
So we live with music and memories, and suddenly it's 2020. And Jackie's back. Forced off the grid, Jackie's self-proclaimed hero-of-none's story was one of revenge and reconciliation – but with the help of the benevolent spirit of strangers, Jackie Lynn has earned herself a second go-around. With a map as her guide, and all the weight of the world as her cargo, Jacqueline, lady of the road, is born.
Each track on Jacqueline depicts a day in the life of a woman on a long haul, both alone and together with her own thoughts.
In theory, Jackie Lynn's Jacqueline is the personification of internal strength, humbling endurance, and twilight introspection through the lens of a femme long-haul truck driver.
In practice, Jackie Lynn's Jacqueline is a testament to the traditional American Band. Jackie Lynn is comprised of Cooper Crain, Rob Frye and Dan Quinlivan of Bitchin Bajas and Haley Fohr of Circuit des Yeux. These 9 tracks that tell the story of Jacqueline were written and recorded as a group, first to tape at home, then mixed at Electrical Audio by Cooper Crain.
WUME
Towards the Shadow, the third full-length from Wume, the Baltimore duo of April Camlin (drums, vocals) and Albert Schatz (keyboards, electronics), offers eight exploratory, polyrhythmic jams taking the listener on an excursion deep into inner space—not as a form of escape, but rather in search of purpose and personal liberation in a time of chaos.
While Wume draws much inspiration from past masters, with a particular rooting in German cosmic sounds of the 1970s, their music has always celebrated forward-motion and growth—the name "Wume" both nodding to the hometown of the legendary band Faust and homonymously suggesting gestation. Towards the Shadow announces a new phase for the band featuring a bold expansion of their palette, distilling influences as different as Francis Bebey, Midori Takada, Erkin Koray, and Alice Coltrane into interdimensional songs born of profound personal change. While Wume's sound remains rooted in crisp, precise, and dizzyingly intricate percussion worthy of comparison to Can wedded to harmonic synth patterns and kaleidoscopic electronic textures, Towards the Shadow also features guitar, treated violin, hand percussion, field recordings, and, on "Pool of Light," a player-piano improvisation (an instrument borrowed from Dan Deacon, with whom both Camlin and Schatz frequently collaborate).
Significantly, Towards the Shadow centralizes vocals and lyrics more than any prior Wume outing. It's not simply that Camlin's voice is more dominant in the mix. Once employed to ride waves of sound or convey abstract feeling, Camlin's lyrics here grapple head-on with deep philosophical issues probed during an intense period of reading, self-teaching, and focus on her artistic practice in weaving, resulting in real breakthroughs and dramatic shifts in perspective.
On standout "Shadow," Camlin sings about facing the darkness that many bright and creative people bury deep within. Lyrics like "I embrace my shadow/ It's the self that I know/Go below the ego/And welcome your shadow/Repression serves no one/And limits our freedom" affirm a willingness to not only confront the most secretive aspects of ourselves, but learn to love them. "Pool of Light" reconjures dream images Camlin experienced over the course of crafting this record; "It's Okay" champions an acceptance of human impermanence unreliant on religion or a belief in any afterlife; and "Functionary" even features a reading from Herbert Marcuse's Eros and Civilization, a transformative and empowering text for Camlin.
Wume hail from the collaborative, radical, and highly varied Baltimore music scene that includes such artists as Dan Deacon, Abdu Ali, Horse Lords, Raw Silk, Smoke Bellow, and Chiffon, and Towards the Shadow offers one of this community's most exciting and essential documents yet. This is a record that looks within and asks listeners to do the same, a record that has the guts to give its listeners not only diversion, but challenges: to know themselves better; to question and confront systems of power; to not just keep going, but keep growing. But Wume never ask for more than they give; each time the listener takes Towards the Shadow's illuminating journey through to the album's stunner of a closing track "GenSeq," they'll find their inner battery recharged, their ears and mind newly attuned to the complex worlds they face—both within and without.

Venue Information:
Johnny Brenda's
1201 N. Frankford Ave
Philadelphia, PA, 19125