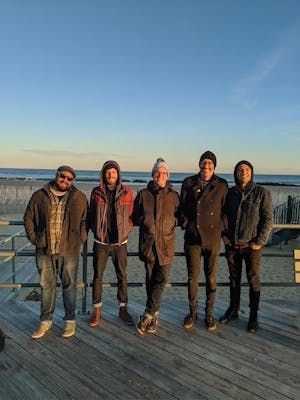 Restorations
Hurry, thank you thank you
Restorations with Hurry and thank you thank you at Johnny Brenda's in Philadelphia
8PM - Doors
9PM - thank you thank you
10PM - Hurry
11PM - Restorations
RESTORATIONS
Time is not a flat circle. It is a slow, steady slog toward an inevitable, unfathomable finish line. And along the way, there are unpredictable twists and turns. In a way, Restorations have always been obsessed with the ephemeral nature of the present, and the uncertain nature of the future. That uncertainty can be frightening, but more often the slog feels like they are stuck, being caught between the old and the new.
The path that Restorations have been on for the past decade isn't one they ever really expected. What started as a "casual local project" between friends who'd spent a lifetime in the Philly music scene quickly evolved into something much more. It's been 10 years since Restorations formed and in that time they've accomplished more than most bands could hope for in that time: Three LPs, a handful of EPs, a split with longtime buddies Rosetta, and tours all over the world—from basement shows with an audience of 15, to NPR Music's Tiny Desk, to music festivals with crowds of thousands.
But after years of a rigorous write, record, tour, repeat schedule, Restorations found themselves in need of a reboot after they finished touring on 2014's LP3. "I felt like things were starting to crack a little," says singer/guitarist Jon Loudon. "While playing shows is fun, touring full-on like that is awful after a while. I can't speak for the rest of the group, but I needed some time to get my brain back together."
The time off felt like a full reboot, both creatively and in their own lives: Jon got married, Ben opened a vegan diner, Dave went to audio engineering school, and Jeff rejoined the band. But even in the time off, Restorations kept playing—tinkering with musical ideas they've been working out together over the past decade. It'd be easy to define LP5000 simple terms: Restorations' comeback record; the culmination of everything they've worked toward as a band. But that would be disingenuous.
Restorations have always been a band keenly aware of their surroundings and LP5000 is just that: Seven songs written and recorded during a time of transition. It's a record about displacement. It's about feeling complacent and coming to the sudden realization that maybe things aren't as solid as they'd seemed—in politics, in personal relationships, and in the different corners of their hometown of Philadelphia. It's about knowing now that if you don't constantly work 24/7 to keep things together, they can easily fall apart. One long, sustained "Oh, fuck."
Recorded with longtime collaborator Jon Low (The National, Frightened Rabbit, The War On Drugs) over the course of a couple sessions at Long Pond in Hudson, NY, LP5000 is everything that fans have come to love about Restorations: Anthemic heartland rock-and-roll replete with mile-wide riffs, psychedelic chooglin', and too many guitars. Over the course of production, the band took the time to examine these seven songs, rip them apart, and rebuild them from the bottom up. "We spent a ton of time deconstructing, trying different arrangements, and exploring the material in a way we've never had time for previously," Loudon says. "What we came into the studio with and what we left with were two completely different albums."
It's seems like a moot point to talk about Restorations' future. For a band who's spent so many years writing songs about the future unknown, they're just happy to be in the present, reunited with Tiny Engines for LP5000, who are also celebrating their 10-year anniversary. Ten years is a long time for any band, but for Loudon, Dave Klyman, Ben Pierce, Dan Zimmerman, and Jeff Meyers, Restorations is more than being in a band; it's being a part of a family—a Philadelphia music scene that's grown to support and be supported by hundreds of musicians, fans, and friends. That kind of support is timeless.
HURRY
What was once a solo project for principal songwriter Matt Scottoline has evolved into Hurry, a power pop trio from Philadelphia, Pennsylvania composed of Scottoline, Rob DeCarolis (Univox), and Joe DeCarolis (Psychic Teens). The DeCarolises are cousins and they are both very talented. "As talented as Matt Scottoline?" Of course. Please don't attempt to pry the band apart with potentially hurtful questions.
Hurry's latest album, Every Little Thought, was likely critically acclaimed, however Hurry does not place much value on things like "critical acclamation," nor do they place much value on "awards." In fact, Hurry did not even pay attention to this year's Grammy winners. Ultimately, who knows if Every Little Thought won any (or all) of those awards. The album, written by Scottoline, is a light and dreamy plunge into life's crushingly relentless uncertainty and doubt. The album is more pop-driven than Hurry's previous efforts, focusing on catchy melodies, hooks, and harmonies influenced by Teenage Fanclub, Robyn Hitchcock, Yo La Tengo, and Guided By Voices. Of the album, Scottoline — a natural salesman — says, "I tried even harder this time to make it good."
Hurry has toured and played shows with Yuck, Nada Surf, mewithoutYou, Joan of Arc, and Tommy Keene, and have had their music featured on FXX's Series Man Seeking Woman. Scottoline, however, is not sure how important any of that information actually is. "I don't really think it is [important]," he says. Hm. You can judge for yourself.
THANK YOU THANK YOU
thank you thank you is the new project of former TWIABP&IANLATD and current Strange Ranger guitarist Tyler Bussey. The project features a rotating cast of collaborators including members of Spirit of the Beehive, Rozwell Kid and Another Michael. Their debut EP will be out this year.

Restorations is an American rock band formed in 2008, based in Philadelphia, Pennsylvania.
They formed after the dissolution of the post-hardcore band Jena Berlin.

Current line-up:

Dave Klyman - Guitar/Backing Vocals
Jon Loudon - Guitar/Vocals
Ben Pierce - Keys/Guitar/Backing Vocals
Dan Zimmerman - Bass/Backing Vocals
Jeff Meyers- Drums/Percussion

Venue Information:
Johnny Brenda's
1201 N. Frankford Ave
Philadelphia, PA, 19125