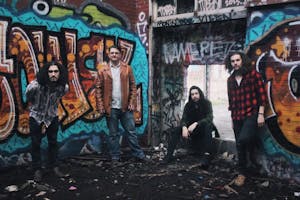 American Dinosaur
Honeytiger, Kirby Sybert
American Dinosaur with Honeytiger and Kirby Sybert at Johnny Brenda's in Philadelphia
8PM - Doors
9PM - Kirby Sybert
10PM - Honeytiger
11PM - American Dinosaur
AMERICAN DINOSAUR
American Dinosaur is a 4 piece Rock & Roll band hailing from Philadelphia, Pennsylvania. After hearing their music, you would expect them to be straight out of the 1970s, but the band was established in August of 2013. During their first year together, they spent their time rehearsing and recording their debut self titled album 'American Dinosaur' which was released in April of 2015. Following the release of their album, they went on to win Best Rock Group in Philadelphia at the PHL Live Awards show. Not wanting to slow down, the band headed right back in to the studio In February of 2016. The band entered Milkboy Studios with Tommy Joyner to record the follow up to their self titled LP. The EP (One for the Birds) was released to great acclaim. The EP broke onto the NACC Top 200, debuting with their hard hitting single "Sweepstakes" which was featured heavily in rotation on 88.5 WXPN in Philadelphia.
HONEYTIGER
Honeytiger is a two-piece indie-rock band from Philadelphia. Their music matches diverse and moody drum hooks with a single electric guitar (run through multiple octaves and amps) while mercurial vocals croon through stages of baritone to smooth falsetto. Honeytiger takes on catchy alt-rock, dark indie-rock, and broken-hearted slow-motion car crash songs.
KIRBY SYBERT
Kirby's musical adventures have led him around the world, from Bern Switzerland to New York City, he creates a vibe that people latch onto. This is reflected in his songs, which are built on hip-shaking grooves, while his lyrics portray a vast set of characters, united in their struggle to be better people in a better world. Because of his intense focus on forging a relationship with his audience, every one of Kirby's performances is a unique experience. It is simply in his nature; if there is a piano in a room, it will be played, and if there is a person in the room, they will be befriended. The only way to truly understand is to experience it for yourself!

Born in Philadelphia, Pa in August of 2013, American Dinosaur was founded on a love of songwriting and America. The basis of their formation shows in their music, as they are constantly trying to transform the sound of today's popular music. Whether it is with their Blues/Rock guitar riffs, Hip-Hop influenced Drumming, or the Mellow Yellow bass lines, American Dinosaur is sure to have you tapping your feet. Woven together by sweet harmonies and even sweeter hooks, these 4 Soul Surfers won't rest until the citizens of Earth know the wonders of American Dinosaur.
Honeytiger is a two-piece cheesesteak/hoagie/indie/garage rock from Philly. Their music blends indie-rock, garage-pop and mercurial pool jumping that energizes the crowd, makes them weep, and has them wagging their tails. From soaring falsettos to guttural screams over big drum beats and catchy guitar riffs, Honeytiger has an unusual combination of intensity and melancholy that is usually reserved for slow motion car crashes. Honeytiger started in 2015 and their album "Half Clean" is out now on iTunes, Spotify, and Bandcamp.

Venue Information:
Johnny Brenda's
1201 N. Frankford Ave
Philadelphia, PA, 19125