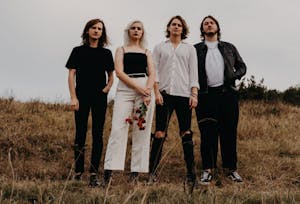 Flipturn
The Brazen Youth, Ocean Heights
$12.00 - $15.00
Postponed
Flipturn with The Brazen Youth & Ocean Heights at Johnny Brenda's in Philadelphia
7 PM - Doors
8 PM - Ocean Heights
9 PM - The Brazen Youth
10PM - Flipturn
FLIPTURN
Like the beginning of most humble rock stories, flipturn came to be in a garage in Fernandina Beach, Florida. The place where four seemingly inevitable friends congregated to kill the extra hours of the high school years, produced a sound that flirts with the countless tangents that build up modern indie music. Although their genesis shares similarities to that of many other bands, their sound, raw magnetism and steep trajectory are unmatched by anyone among their ranks. The flipturn roll call is Dillon Basse (lead vocals/rhythm guitar), Tristan Duncan (lead guitar), Madeline Jarman (bass) and Adrian Walker (drums). Fans are drawn to the rarity of both strong female and male presences within the band that foster a sense of inclusion in the musical experience. The fever dream energy of their live shows has positioned flipturn as a metaphorical musical sun, holding fans in a trancelike orbit. There is nothing held back while the band is performing. Basse's vocals possess the innate ability to simultaneously shake the physical walls of a room and shake loose latent emotions within a listener. The chemistry and talent shared between the bandmates allows for a total release of inhibitions. Their songs are written in an artfully understandable way that makes flipturn the storytellers for a generation of people who were never told what to do next. In their short yet accomplished history, the band has collected an impressive number of streams, built an online community of supporters, and shared the stage with other acts who are reshaping the industry. flipturn has recently spent a significant amount of time touring and plan to travel even more in the coming months. The music they are in the process of releasing holds a sincerity and transparency unlike anything that has come before.
THE BRAZEN YOUTH
The Brazen Youth began with an unlikely union of two eighth graders, Nicholas Lussier and Charlie Dahlke. Based on a 300-year-old farmhouse in Lyme, CT, the pair developed their folk-based sensibilities in a space that was unlimited in creative power. They spent their formative years between the musty bookshelves of the farm, crafting a record that came to be called The Ever Dying Bristlecone Man (2016), which was pure evidence of the ambition and imagination of both songwriters. With a new surge in online followers, Nick and Charlie's good friend Micah Rubin joined the band, creating a complete lineup that would tour the United States throughout 2017 and 2018. During this time, the trio was developing a more polished, cohesive LP in their self-constructed studio that would release in 2018, called Primitive Initiative. Following a longer period of touring, including dates with friends Spendtime Palace, The Brazen Youth's upcoming EP, titled 15 BILLION EYES was completed. While Ever Dying and Primitive Initiative made use of darker textures, 15 BILLION EYES is more inventive, playful, and dynamic than any past work. The songwriting is more distinct – contrasting Charlie Dahlke's declarative, bold statements with the reflective, moody pondering of Nicholas Lussier. Mixed by Sam Griffin Owens (Sam Evian), the record has a unique warmth that is both recognizable and surprising. On the wake of the record release and a long string of tour dates, the Brazen Youth remains a brotherhood like no other – a creative force which constantly seeks to challenge itself and shed its old skin. - Will Orchard
OCEAN HEIGHTS
Alternative band by day and pro bowling team by night. Ocean Heights is New Jersey's own answer to changing tides in hip hop and rock culture. Members include frontman Justin Wilkerson, lead guitar player Young Frank, Tylor Salazar on keys and Josh Carboni on bass.

In late 2015, a group of high school friends started playing music in a Fernandina Beach, Florida garage. It did not take long for the five to realize their mutual ambition for playing music on the national stage. Today, they make up the band flipturn, which has been taking the Florida indie scene by storm and capturing the hearts of music lovers around the world.

flipturn is comprised of Dillon Basse (lead vocals/rhythm guitar), Tristan Duncan (lead guitar), Madeline Jarman (bass), Taylor Allen (synth), and Adrian Walker (drums). With a fun, feel-good sound that takes influence from artists such as Hippo Campus and Two Door Cinema Club, flipturn seamlessly blends elements of surf rock, garage, new wave, and pop.

March 2017 saw the release of flipturn's debut EP, "Heavy Colors", which was met with a wave of positive reviews from critics and fans alike. In the spring of 2018, flipturn released their critically-acclaimed sophomore EP, "Citrona". Pandora Music selected "Citrona" as one of their "Pandora Picks" for April 2018. "Citrona is a polished, dynamic display of raw emotion and pure talent that leaves you craving more" (S. Elkin, Pandora). So far, flipturn has gained over one million streams on Spotify.

flipturn has performed throughout Florida and the east coast and has provided support for Magic City Hippies, Saint Motel, and COIN, among others. In March 2018, flipturn beat out 3,000 other bands to secure a spot on the main stage at Okeechobee Music Festival-- performing on the same stage as Arcade Fire, Halsey, and Snoop Dogg.

To promote their newest EP, "Citrona", flipturn toured around the United States in May of 2018, playing for packed houses and sold out venues. flipturn's youthful energy and exciting stage presence translate into a captivated audience chanting, "One more song!" at the end of each show.

The Brazen Youth is project formed in 2014 by two wildly different artists, clashing together with chaos to create something beautiful and eccentric.

The collective work of Nicholas Lussier and Charles Dahlke, from the small wooded town of Lyme, Connecticut, The Brazen Youth make their home at a humbly bizarre farm called Ashlawn. Living up to the distinctness of its name, Ashlawn Farm is complete with rolling fields, a cabin, a 300-year-old farmhouse, a graveyard, and mythical creatures. The scenery of the farm plays very much into The Brazen Youth's pastoral and atmospheric sound. The duo utilizes boundless wells of emotion and vulnerability to create something that is haunting, otherworldly, and melancholy - yet retains an immensely honest touch.

Despite vibrant experimentation and sonic filtration, The Brazen Youth are still human beings, and that is increasingly evident with each song on their debut album, "The Ever Dying Bristlecone Man."

Following a series of casual releases and plenty of shows around the Northeast from 2014-2016, "The Ever Dying Bristlecone Man" hit hard with indie music fans, proving through and through that The Brazen Youth are committed to their artistry - and that resonated with people, a lot. They are currently in the midst of writing their sophomore album and will be hitting the road again in 2017 to share their gift with their newfound fanbase.

Stick around for the Brazen Youth. There are worlds of theirs that they have yet to show.


Venue Information:
Johnny Brenda's
1201 N. Frankford Ave
Philadelphia, PA, 19125