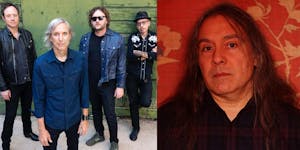 Live Skull & Martin Bisi
Curanderos
Live Skull & Martin Bisi with Curanderos at Johnny Brenda's in Philadelphia
8PM - Doors
9PM - Curanderos
10PM - Martin Bisi
11PM - Live Skull
LIVE SKULL
Formed in 1982, the quintessential New York noise band Live Skull are back this year with a brand-new album 'Saturday Night Massacre', together with Lydia Lunch, Sonic Youth and Swans, Live Skull were co-founders of the NY noise-rock-scene.
In his much-quoted review for The New York Times, Robert Palmer declared, "With each new record, New York's Live Skull delivers a more concentrated brand of emotional intensity, a more ferociously disciplined sonic assault."
Often brutal and yet strangely seductive, full of hooks and emotional intensity, and with a drone-dance-quality that reminds us of the early Velvet Underground.
After a gap of 30 years, Live Skull are back!
MARTIN BISI
Martin Bisi's long journey as a producer can be heard in the songs and soundscapes of his eponymous band - No Wave, Industrial, Experimental. Founding BC Studio in 1981 with the help of Brian Eno and Bill Laswell, Bisi has recorded landmark music there by Sonic Youth, Swans, John Zorn, Africa Bambaataa, Unsane, Cop Shoot Cop, Herbie Hancock's Rockit, Violent Femmes, JG Thirlwell/Foetus, US Maple, Dresden Dolls and countless others.
CURANDEROS
Michael and John Gibbons of Bardo Pond

Formed in 1982 by guitarists Mark C and Tom Paine with Marnie Greenholz on bass and James Lo on drums, Live Skull is considered by many aficionados to be the quintessential New York noise band. Together with Sonic Youth and Swans, Live Skull defined the term "noise rock" in the 1980s, spearheading the post-No Wave underground music scene in NYC with a series of legendary live performances and eight groundbreaking records released over the course of that decade. Often brutal and yet strangely seductive, each of these classic records creates hooks out of the most unlikely, seemingly disruptive elements, subverting traditional rock forms in previously unheard ways that became an undeniable (albeit often unacknowledged) influence on many of their contemporaries. Live Skull broke up in 1989, just within sight of that magical moment when the sort of music they pioneered began to finally break through, but the band's recorded output reminds us that Live Skull got there first.

In his much-quoted review for The New York Times, Robert Palmer declared, "With each new record, New York's Live Skull delivers a more concentrated brand of emotional intensity, a more ferociously disciplined sonic assault. Live Skull's music – a high-wire act played for keeps, without a net – is as challenging, as spiritually corrosive, and ultimately as transcendent as Albert Ayler's mid-60's free jazz or the implacable drone-dance of the early Velvet Underground. It's one of the essential sounds of our time." And, writing for New Look magazine, Robert Palmer famously declared: "The most startlingly original array of guitar sounds and approaches since Jimi Hendrix. They make guitars do things youve never imagined."

Venue Information:
Johnny Brenda's
1201 N. Frankford Ave
Philadelphia, PA, 19125