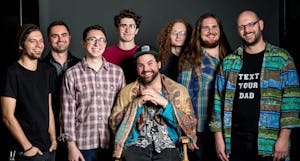 Nik Greeley & The Operators and Darla
Darla
Nik Greeley & The Operators and Darla at Johnny Brenda's in Philadelphia
8PM - Doors
9PM - Show
10PM - Darla
11PM - Nik Greeley & the Operators
NIK GREELEY & THE OPERATORS
Nik Greeley is known for being one of the best frontman & performers in Philadelphia, and has established himself as one of the most entertaining & hard working musicians in the area, often being compared to the likes of James Brown & Joe Cocker. The Operators have had the pleasure of opening for respected artists such as George Clinton & Parliament Funkadelic, Gene Ween (Ween) Robert Randolph & The Family Band, Shuggie Otis, Bernie Worrell (P-Funk, Talking Heads) Fishbone, Rebirth Brass Band, Big Sam's Funky Nation, Karl Denson's Tiny Universe, Everyone Orchestra, Rusted Root, Andy Frasco and many more.
DARLA
Darla is a 6-piece instrumental band from Philadelphia. Since forming in 2014, the group has honed their palette of funk and rock grooves, drawing from their origins in the Philadelphia DIY basement scene and influences of 1970s funk and fusion. The Darla sound is an accessible one—free from over-complication and over-indulgence. Fronted by saxophonists, Wil Schade and David Bartler, the duo acts as the vocal core of the group, layering catchy melodies atop the methodical, feel-focused rhythm section of Jake Held (bass), Brendan Monahan (guitar), Kosta Johnson (keys), and Richard Straub (drums). This talented group of non-conservatory musicians gets every crowd in the dancing mood with their raw yet polished energy.
Darla has shared the stage with the likes of George Clinton & Parliament Funkadelic, KNOWER, The Disco Biscuits, George Porter Jr. (The Meters), Kamasi Washington, Bill Laurance, Big Sam's Funky Nation, and Cory Henry & the Funk Apostles. The band works closely with the legendary engineer and member of The Butcher Brothers, Phil Nicolo (Ms. Lauryn Hill, Billy Joel, BonJovi, Bob Dylan) of Phil's Records.

Darla is a 7-piece instrumental band from Philadelphia. Since forming in 2014, the group has honed their palette of funk and rock grooves, drawing from their origins in the Philadelphia DIY basement scene and influences of 1970s funk and fusion. The Darla sound is an accessible one—free from over-complication and over-indulgence. Fronted by saxophonists, Wil Schade and David Bartler, the duo acts as the vocal core of the group, layering catchy melodies atop the methodical, feel-focused rhythm section of Michael Morrongiello (bass), Brendan Monahan (guitar), Jake Held (baritone guitar), Kosta Johnson (keys), and Richard Straub (drums). This talented group of non-conservatory musicians gets every crowd in the dancing mood with their raw, unpolished energy.

Darla has shared the stage with the likes of George Clinton & Parliament Funkadelic, KNOWER, The Disco Biscuits, George Porter Jr. (The Meters), Kamasi Washington, Bill Laurance, Big Sam's Funky Nation, and Cory Henry & the Funk Apostles. The band works closely with the legendary engineer and member of The Butcher Brothers, Phil Nicolo (Ms. Lauryn Hill, Billy Joel, BonJovi, Bob Dylan) of Phil's Records.

Venue Information:
Johnny Brenda's
1201 N. Frankford Ave
Philadelphia, PA, 19125