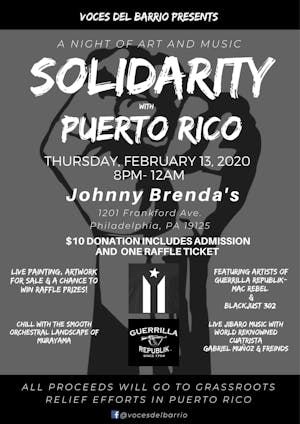 Voces Del Barrio Presents
Solidarity with Puerto Rico
Guerrilla Republik (MAC Rebel & Blackjust 302) , Gabriel Muñoz , Murayama
Solidarity with Puerto Rico - A Night of Art & Music at Johnny Brenda's in Philadelphia
Voces Del Barrio Presents
Solidarity with Puerto Rico - A Night of Art & Music
Join us for an evening of Art and Music as we raise money for the relief efforts for earthquake victims in Puerto Rico.
Puerto Rico was hit by a 6.4 magnitude earthquake on January 7th of 2020 and since then, hundreds of strong aftershocks continue to follow.
All proceeds from the ticket sales go to Vive Boriken, a grassroots organization aimed to uplift and educate underserved communities in Puerto Rico.
For more information about Vive Boriken, please check out and follow them on Facebook: https://facebook.com/viveboriken/
Featuring performances from:
Guerrilla Republik (MAC Rebel & Blackjust 302)
Gabriel Muñoz
Murayama
Venue Information:
Johnny Brenda's
1201 N. Frankford Ave
Philadelphia, PA, 19125