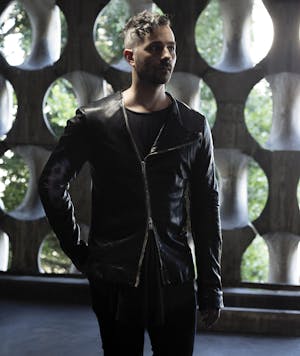 Telefon Tel Aviv
Steve Hauschildt
$12.00 - $15.00
Sales Ended
Telefon Tel Aviv with Steve Hauschildt at Johnny Brenda's in Philadelphia
7PM - Doors
8PM - Steve Hauschildt
9PM - Telefon Tel Aviv
TELEFON TEL AVIV
Telefon Tel Aviv is an experimental electronic duo formed in 1999 by two New Orleans high-school friends, Joshua Eustis and Charles Cooper. Following years of playing in various local bands and learning the ropes of electronic music production, Eustis and Cooper wrote the demos for what would become Telefon Tel Aviv in 1999. After sending them to John Hughes III, who operated the Chicago-based Hefty Records, they were offered an album deal in January 2000. They spent the rest of that year writing their debut album, Fahrenheit Fair Enough, released in September 2001, as well as the soundtrack for the movie New Port South, written by Hughes' brother James and released the same year.
Shaped by a diverse set of influences that included British electronic music (Autechre, Aphex Twin, Jega) and Black American music (house, techno, bounce rap), Telefon Tel Aviv were the latest in a growing lineup of American musicians that sought to carve their own lane and add something meaningful to a growing international conversation about what the meeting point between hip-hop, soul, and electronic music could be. But while Eustis and Cooper emerged within a specific context that provided their continuing work with a solid foundation, they spent the next decade taking risks and grappling with the idea of what an electronic duo could be.
In 2004, they released their second LP, Map Of What Is Effortless, a bold attempt at solidifying the romantic elements of their debut into a modern r&b sound and featuring vocal contributions from Damon Aaron and Lindsay Anderson. Three years later, Hefty released a compilation of Telefon Tel Aviv remixes that included their take on Nine Inch Nails, Ammoncontact, Slicker, and Apparat among others.In 2009, ten years after they first began working together, the duo returned with Immolate Yourself, via Ellen Alien's BPitch Control label. Darker and synth-driven, this third album took yet another dramatic left turn, this time towards a more unabashedly pop-minded sound.In between the German and U.S. release of Immolate, Charles Cooper passed away unexpectedly. Following Cooper's death the Telefon Tel Aviv project went on hold. In 2014, Eustis released a solo album on Audraglint Recordings as Sons of Magdalene called Move To Pain.After years of self-doubt, Eustis decided to revive the Telefon Tel Aviv alias in 2016. This return coincides with a reissue of the debut album on Ghostly International and Eustis' first live shows under the name, which began in the spring of 2016 with a North American tour alongside Moderat. New material under the Telefon Tel Aviv moniker is currently being written.
STEVE HAUSCHILDT
Chicago-based electronic musician Steve Hauschildt has composed minimal sounds at extraordinary levels for over a decade. First within his former band, Emeralds, an American touchstone of 2000s home-recorded psychedelic noise music, and later across a steady and critically-acclaimed stream of solo releases. As a live performer, he explores the intersection of experimental music and video art, having toured heavily across North America, Europe, and Asia. As a recording artist, Hauschildt utilizes synthesizers, computers, and digital processing to continuously transmute and evolve modes of electronic music.
In 2011, he released his debut full-length with Kranky Records, Tragedy & Geometry, a post-kosmische album inspired by Greek muses and the disposability of technology. His next LP in 2012, Sequitur, was recorded in Vancouver and featured nearly 20 different synthesizers spanning the last five decades. In 2013, Editions Mego released S/H, an extensive anthology of rare and unreleased works from Hauschildt's archives (2005-2012). Additionally, he co-curated a compilation for the Air Texture series in 2014.
In 2015, Hauschildt completed the cascading full-length Where All Is Fled. Both its artwork and its music found inspiration from surrealist landscape paintings, early alchemical emblems, and recurring visions. The following year's Strands, his fourth release with Kranky, presented what Hauschildt called "a song cycle that is about cosmogony and creation/destruction myths." He approached compositions like malleable fibers of a unified whole, like strands of rope. Reflecting on his hometown of Cleveland, Hauschildt focused the gritty, decaying compositions upon "the dichotomy of oil and water and the resulting, unnatural symptoms of human industry."
With Dissolvi, his first release on Ghostly International and his most collaborative work to date — featuring Julianna Barwick, GABI, and a broader set of instrumentation overall — Hauschildt extends a vast, vibrating framework in which to consider the state of being. Songs are cerebral in orientation, but beyond explanation — references to solipsistic desires, modern-day surveillance, and physiological phenomena abound — the music is truly visceral and profoundly rich.

Formed in 1999 in New Orleans, Telefon Tel Aviv eventually got signed to Chicago's Hefty Records and released their acclaimed debut album in the fall of 2001. Other side projects include the score for the 2001 film New Port South. Their second album, "Map Of What Is Effortless", came out in January 2004.
Charlie Cooper passed away on January 22nd 2009.


Venue Information:
Johnny Brenda's
1201 N. Frankford Ave
Philadelphia, PA, 19125