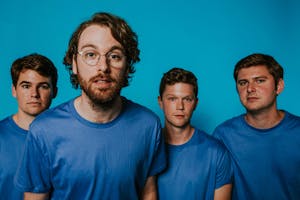 The Brook & The Bluff
Jordy Searcy
The Brook & The Bluff with Jordy Searcy at Johnny Brenda's in Philadelphia
7PM - Doors
8PM - Jordy Searcy
9PM - The Brook & The Bluff
THE BROOK & THE BLUFF
Established in Birmingham, AL, The Brook & The Bluff is a four-piece band that consists of front man Joseph Settine, drummer John Canada, guitarist Alec Bolton and bassist Fred Lankford.
The Brook & The Bluff have quickly become recognized for their evocative blend of instrumental talent and vocal harmony. These elements are readily apparent in the band's debut track, "Masks." Having initially gained momentum via Spotify, the song has helped spur the band forward in their musical pursuits.
The group's first year as a full band was widely successful. From charting on Spotify's US and Canada Viral 50 Playlists, performing at the NAMM shows in both Nashville and Anaheim, and selling out shows in Atlanta, Birmingham, Huntsville, Nashville, Auburn and more, the band has had an exhilarating start.
Originally an acoustic duo, Alec and Joseph started turning heads in local venues with clean vocals and expert guitar work. John and Fred noticed the talent and potential of the duo and joined the group, expanding their sound with driving rhythm and four-part harmonies. The band instantly locked in and have been playing together ever since.
As The Brook & The Bluff head into fall/winter of 2019, The Brook & The Bluff continue to grow their fanbase across the country. The Brook & The Bluff's debut full length album, FIRST PLACE, will be released in October 2019 and the band will be on tour for both headline and support shows nationwide to promote the new music.
JORDY SEARCY
Known for poignant, insightful lyrics that pinpoint the human experience as seen from a small town boy with big dreams, deep insight, and strong desire to connect, Jordy Searcy is the real thing. Bringing new life to the indie pop music scene, Jordy is renowned for his organic, fresh take on songwriting and his passion for bridging the gap between the artist and the audience.


Born and raised in Baton Rouge, Louisiana, Jordy grew up playing music with his family, in his church, and on his own – finding his voice in music early on. Shaped by his early memories of writing and playing music with his parents and siblings, he put together his first mix tape of original songs as early as middle school. At just fourteen years old, he started playing shows for anyone who would listen. In 2014, Jordy landed a spot on NBC's The Voice, where he was coached under Pharrell Williams. It was during this time that he shifted his focus from performing onto blazing his own trail as a songwriter and vocalist.
After leaving The Voice, Jordy packed up and moved to Nashville to pursue his career in earnest. It was during this early stage that he discovered what inspires his songwriting most–connecting with his audience. His 2018 EP, Dark in The City, was met with critical acclaim, launching him into the Nashville songwriting scene and a touring career of over 150 shows per year nationwide. The EP's seven tracks are tangibly human–laced with lyrical depth and the true markings of a masterful songwriter. The process became like second nature for Jordy, "The day-to-day repetition of songwriting is something I really have grown to love. I think it's a muscle I will always enjoy exercising.
"

Jordy's new music promises to deliver what he is known for: authentic, original music driven by his faith, emotional depth, and his intrinsic desire to connect with an audience. On writing the album, Jordy says, "it was a long process–I started between 250-300 songs, and in that discovered a whole new sound that I wouldn't arrived at without that process. Lucas Morton's production was also an essential part of choosing and forming the songs, as I feel like the recordings took on a life beyond the songwriting when we got into the studio. We wanted this record to sound like Julia Michaels meets The Beatles, and I think we got something pretty special." The authenticity that he brings to his music and his live shows is what sets him apart. Pharrell Williams said it best, "There's something different about Jordy." 

Established in Birmingham, AL, The Brook & The Bluff is a four-man band that consists of frontman Joseph Settine, drummer John Canada, guitarist Alec Bolton and bassist Fred Lankford.The guys have quickly become recognized for their evocative blend of instrumental talent and vocal harmony. These elements are readily apparent in the band's debut track, "Masks." Having initially gained momentum via Spotify, the song has helped spur the band forward in their musical pursuits.
The group's first year as a full band has been widely successful. From charting on Spotify's US and Canada Viral 50 Playlists, performing at the NAMM shows in both Nashville and Anaheim, and selling out shows in Atlanta, Birmingham, Huntsville, Nashville and Opelika, the band has had an exhilarating first year. 
Originally an acoustic duo, Alec and Joseph started turning heads in local venues with clean vocals and expert guitar work. John noticed the talent and potential of the duo and offered to play drums and sing with the guys. Soon after, he officially joined the group, expanding their sound with driving rhythm and an added voice. The trio instantly locked in and have been playing together ever since. With their new bassist Fred Lankford, The Brook and The Bluff relocated to Nashville in 2018.

Venue Information:
Johnny Brenda's
1201 N. Frankford Ave
Philadelphia, PA, 19125